VAC329 Vacuum Sealer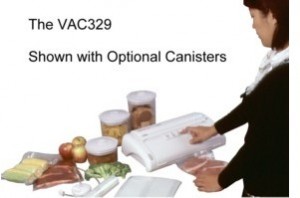 Exposure to oxygen causes food to deteriorate. By sealing the food inside a bag or canister from which the air has been extracted its storage life is greatly increased.
Store foods up to 5 times longer, Fresh meat lasts up to eight days instead of three, Frozen meat lasts up to 15 months instead of four, Powdered milk lasts up to 12 months instead of one.
1. Buy in bulk.
Stock up on meat, fish and vegetables at discounted bulk prices. Simply vacuum seal and freeze. Months later your favourite foods will still be full of flavour and nutrition.
2. Take advantage of specials.
Don't pass those bargains by. Stock up while the price is low. With VAC329 you can save money on all kinds of foods from meat and vegetables to pasta and rice.
3. Minimise wastage
How much food do you throw out? Bread and pastries that have gone stale? Biscuits and crisps that have gone soft? Vegetables that have gone limp? Never again, with VAC329.
Click Here to View Demo Video of VAC329 Vacuum Sealer" Please be patient video may take a minute to load
Click Here to Download the VAC329 Vacuum Sealer Brochure PDF
---
DQ400 (420) Vacuum Chamber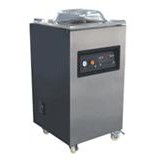 Vacuum Chamber machines or Vacuum packing machines are used to evacuate the air around perishable goods such as food products like cheese and meat where longer shelf life is needed.
The food industry sometimes refers to Vacuum packing as Cryovacing or to Cryovac the item, Vacuum Chamber machines or vacuum sealers remove the air from the package while sealing it at the same time, giving the ultimate in protection while extending the shelf life and maintaining product integrity.
Vacuum Sealers or Vacuum chamber machines commonly use a 70um Vacuum pouch, these barrier bags provide a barrier against the atmosphere and moisture, they are placed in the chamber, air is extracted from the vacuum bag and then sealed.
These Vacuum Chamber machines are made from Stainless steel and are available in a variety of sizes, gas flushing is available as an option.
DQ400 (420) Features:
Capacity pump 20m3/h
Machine cycle 15-40sec.
Dimensions 500 x 530 x 1000 mm
Voltage 220V 50HZ
Power 1.0KW
Weight 68(65)KG
Heating base 400mmX2bars(420mmX1bar)
Click Here to Download the DQ400 (420) Vacuum Chamber Machine Brochure PDF
---